Clear Prints Digital is the best full-service printing company offering a wide variety of printing services, including business cards printing, poster printing, brochures printing and many more. We use the best printing tools and equipment to provide quality printing service.
We keep our clients happy by making sure that we beat deadlines while we bet on our client's satisfaction.
Be one of our happy and satisfied clients now!
Call us at 02077371043 or email us at clearprintsdigital@yahoo.com. Expect us to cater your needs as soon as possible.
Our Location
Clearprintsdigital
392-394 Coldharbour Lane,
Brixton,
London SW9 8LF.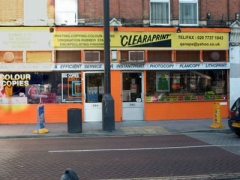 Email Us
Call Us
support ticket
If you have any questions, please do not hesitate in contacting us via email or phone.
Our professional staff will get back to you in a timely fashion and will guarantee satisfaction in your inquiries. Try us today. 🙂
No Fields Found.